Find the perfect pencil for your sketching needs...
Caran d'Ache Grafwood drawing pencils represent the pinnacle of Swiss pencil design and innovation. Each pencil grade, from 4H to 9B, features a different shade of grey as its lacquer finish, allowing you to distinguish between the different grades instantaneously.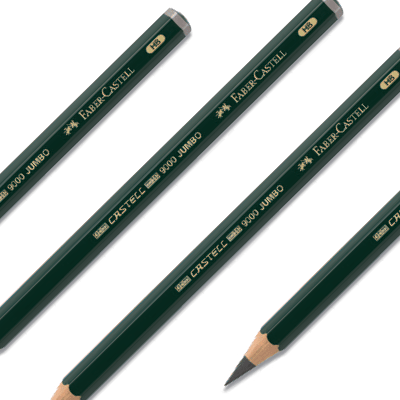 9000 Jumbo Graded Graphite Drawing Pencil
Faber-Castell's Jumbo Castell 9000 drawing pencils represent the same level of quality as Faber-Castell's acclaimed Castell 9000 series of drawing pencils in a slightly larger format. Available in five different graphite grades (HB, 2B, 4B, 6B and 8B), these drawing pencils feature a 5.25 millimeter graphite core that offers users a variety of line widths.
Mars Lumograph Drawing Pencils
Staedtler Mars Lumograph pencils are premium pencils great for writing, drawing, or sketching. Choose from grades 4H-4B. Due to their quality and affordability they've become a staple among artists.